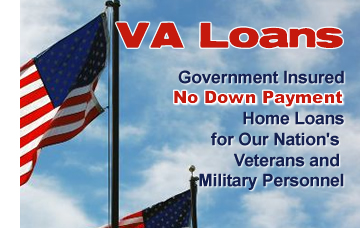 VA mortgage loans are the mortgage loan in the United States guaranteed by the U.S. Department of Veterans Affairs (VA).  These loans are available to those consumers who have been serving the US military. The Department of Veterans Affairs (VA) does not lend money for VA loans; however it backs the loans made by private lenders like banks, savings and loans, or mortgage companies to the veterans who qualify for these.
Veterans, Active-duty personnel, Reservists/National Guard members or some surviving spouses may qualify for this loan. The advantages of a VA mortgage loan are many. No down payment is required unless specifically required by the lender. Moreover if the purchase price is more than the reasonable value of the property some payment may be required. There are Negotiable interest rates. Closing costs are comparable with other financing types (and may be lower).
Veterans or the respective spouses may apply for this loan with any Mortgage lender who is authorized by the U.S. Department of Veterans Affairs (VA). The veterans need to get a certificate of eligibility for the lender from VA. Vice versa lenders may also get the certificates for their clients. There is no limit on the amount of money that can be borrowed by the veteran however there could be certain country restriction that may impose limit on the maximum amount of amount to be borrowed. The amount is absolutely free from down payment.
The veterans who qualify for the VA loan can purchase home up to $417000, with no down payment. However with the revised VA loan limits, the veterans would be allowed to purchase houses of far high costs, especially in the high cost countries, without putting any money down.
VA Mortgage are in the market demand due to the flexibility and ease of raising this loan. More over VA Loans are a government certified mortgage product which adds the icing to the cake. We at Inspirecs.com specialize in FHA and VA mortgage live lead transfers. Inspirecs.com is a third party Lead Validation company that specializes in Lead Validation and Live Transfers.  Reverse Mortgage, Debt Settlement, Debt Consolidation, Business Cash Advance, Insurance, Loan Modification, Loss Mitigation and Debt Acquisition Live Transfer Generation are some of our specialties. Our team has been actively serving into mortgage Lead Generation, Mortgage Loan Processing, Mortgage Collections, Mortgage Customer Care, Debt Settlement Live Transfer Generation, Debt Consolidation Live Transfer Generation, Reverse Mortgage Live Transfer Generation, Loan Modification Live Transfer Generation, Loss Mitigation Live Transfer Generation Industries for ages. If you are looking for active VA mortgage financing leads, InspireCS.com can help you with live leads which you were looking out for, exclusively fresh. Just call 1-800-986-9315 Ext 101 and leave the rest to us.