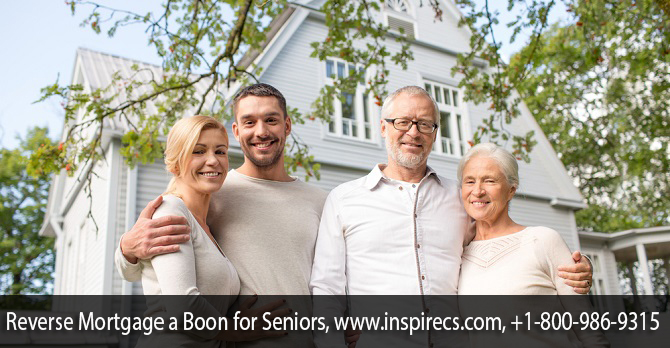 Reverse mortgage is a new concept, which is completely opposite of a traditional forward mortgage loan. It helps senior citizens to get a regular stream of income from an FHA Approved institution against the reverse mortgage on their home.
There are senior citizens all across the nation, who lack proper financial aids to lead a life of dignity. In most cases, they can't even afford day to day expenses, let alone finance for their medical needs. This is why reverse mortgage helps them live peacefully by using the equity of their owned house for a reverse mortgage loan. The borrower gets to live in their property forever and get a periodic payment for it.
The property that is pledged is given a monetary value by the bank on the basis of current property prices, demand and other conditions in the market. Then a loan is disbursed to the borrower in periodic payments after considering price fluctuations and interest costs.
The periodic payment is received over fixed loan tenure. With every payment the interest of the house decreases. This gives senior citizens a regular source of income without worrying about taking care of their every day needs.
Basic guidelines for reverse mortgage
Maximum loan amount is up to 60% of the value of the property depending on the age of the youngest borrower.
Maximum tenure is 15 years and minimum is of 10 years.
Re-evaluation of property is undertakenonce in 5 years.
There is an option of monthly, quarterly or annual lump sum.
Eligibility criteria includes –
The primary owner of the house has to be above 62 years of age or older.
The owner has to own the house in legal terms. The title should be clear, indicating the ownership in clear lines.
The property to be reverse mortgaged should be free from all encumbrances.
The property should be permanent primary residence of the owners.
The life of the property should be of at least minimum 20 years.
The loan on any reverse mortgage becomes due only when the last surviving borrower of the loan dies or chooses to sell the home. The bank first offers to settle the loan with the closest kin, if not, the bank opts to recover the loan from the sale proceeds of the property.
There are many companies like www.inspirecs.com that help borrowers connect with these banks, making it easier for them to get a regular income for all their lives. They take up the cumbersome task of getting both the parties connectedthus making it easier for the banks to speak to the right qualified borrower for the Reverse Mortgage Program and also they relieve the borrower of the headache in finding the right bank for their Reverse Mortgage need.